If there's anyone to blame, point directly at the crew of Steve and Michelle.  They've been the plotters since the Cannon's maiden voyage.  Each of them brings a very unique, and different skill to the table.  The result is "Loaded Cannon".  This ain't no fly by night ship. 
A Chemical Engineer and a Graphic Designer/Bartender/Genius – what a team – Just like Gilligan's Island…or was it Milligan's Island?!  Don't forget Cannon, our miniature Australian Shepard mascot.  Cannon was born on St. Patrick's Day 2018, when the distillery was being planned.
Steve has degrees in Chemical Engineering and International Management. Since graduation in 1982 he has traveled the globe living in five countries, eight states and managed world-scale chemical facilities. His career in the chemical industry started by, imagine this, becoming a distillation expert and preparing for the distillery he now runs. Steve's true love for making "spirits' was born in Saudi Arabia, of all places. There, the practice came with added anxiety, as being caught would result in significant punishment. He's really the silent firecracker of the bunch.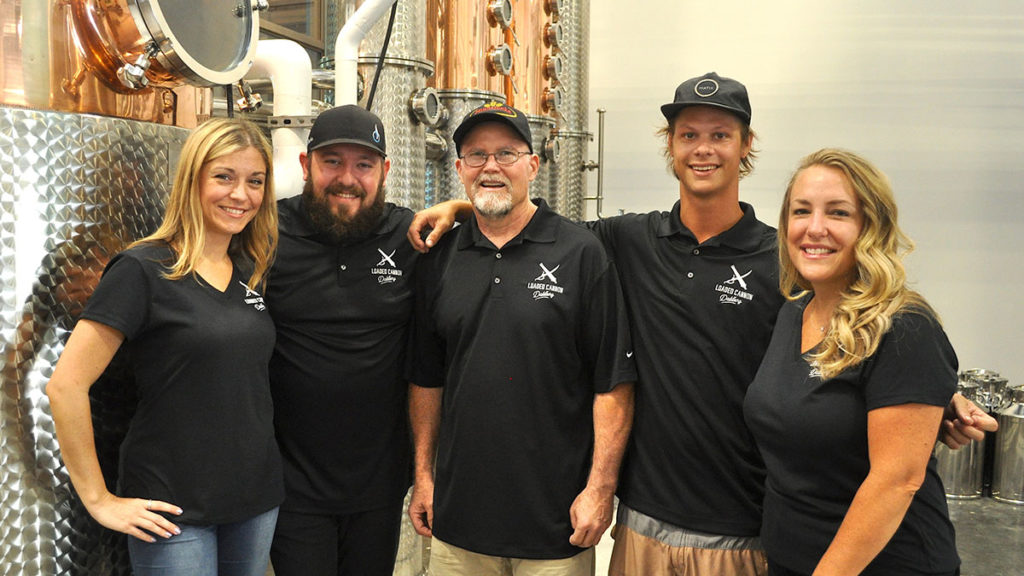 Steve
Founder / Owner
While Steve is the founder and majority owner, there are partners.  Each one of them bringing a unique skill and talent to the team.  There are two sets of brothers and two father / son partners.  Steve's family is also involved in a large Brewery / Distillery in northern Alabama. This relationship allows for training, sharing of ideas, and product innovation. This support has allowed us to "jump start" the distillery where it would normally take months, or even years.
Michelle
Director of Marketing / Creative Director / Events
Michelle Russell was next to come on board, literally. She is a creative genius who has developed some of our logos, all of our labels and developed a beautifully designed tasting room. While she was finishing her BFA Michelle was a skilled Mixologists who had a creative touch and unique palette. This helps us tremendously when it comes to taste testing the products. She is our Brand Manager whom oversees the tasting room as well as is our Creative and Marketing Director. Michelle also is very active in the community wether its chamber events or volunteering to help clean up our local beaches, she does it all. When you meet Michelle, you may confuse her with Anne Bonney… a true firecracker!
Justin
Consulting Partner / Events
Justin Hertz welcomed Steve and the rest of the Loaded Cannon team to the Lakewood Ranch neighborhood where Justin owns a wholesale packaging supply distribution.  He is now a partner.  You can bet that Loaded Cannon will have the best bottles available! A self-proclaimed sports fanatic (he even invited LeBron James to his wedding!), he is as tech savvy as they come.  Justin is passionate about customer experience, social media communications, and community engagement.  He is our "game-changer" bringing innovation and excitement to the table.  He is also our business consultant who helps with booking/planning events.