Our Story
The Loaded Cannon opened its doors in July of 2017 and is proud to be part of the community.  Selected as the best flavored vodka in North America and one of USA Today's top 10 new distilleries.  Also a finalist for Small Business of the year.  From producing hand sanitizer to supporting first responders we do our best to do our part as a good neighbor.
The Loaded Cannon set sail in late 2017 with the purpose of delivering quality spirits to Florida while reviving the rich history of piracy.   The Sun Coast of Florida has a rich heritage that we want to capture as we create hand crafted, unique spirits that put the pirate spirit in a bottle!
We have not rushed the project and have meticulously designed our facility to consistently produce spirits that are unique.  We are committed to being adventurous!  We will let our customers play a large part in where we head and what we make.  That's why our equipment is flexible.  It gives us the ability to make more than just rum, although we do make a great rum!   We want to be innovators, not duplicators. As the saying goes –
"being the best is great, you're the number one. Being unique is greater, you're the only one."
Therefore, "If you can't be unique, why do it at all".  In talking to us, you'll quickly learn that we aren't here to make money, we're here to have fun and make our customers happy.  DISCLAIMER ALERT – To be clear, we're not here to lose money either!
As part of our core beliefs, we will;
Be a good neighbor in the community
Buy locally when possible
Hold our quality to the highest possible standards
Treat our employees with respect
Be unique and travel the path least used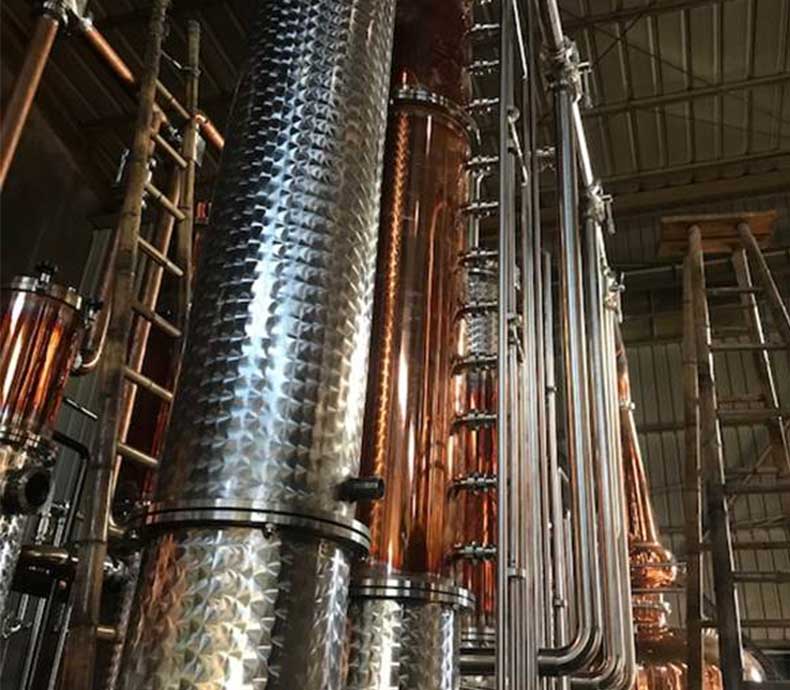 The History of Loaded Cannon
The "Golden Age of Piracy" was between 1650 and 1720.  Thousands of pirates roamed the seas, many on the Sun Coast of Florida.  Join the crew of the majestic ship "Loaded Cannon" and journey back in time where you'll learn some of the forgotten stories worthy of being retold.  Just like those masters of the sea, in order to understand what drives us, you'll have to meet us.  Then you'll understand, we are truly passionate to make the best product we possibly can.  We never forget, the "best" product is what the customer wants, how they want it and who they want to drink it with!  When you understand that, climb aboard, you're one of the crew. 
"Our spirits are not just hand crafted, they're Copper Kissed"
Well, just what is a "Loaded Cannon", other than the obvious answer?  Well, in our case, the Loaded Cannon is a fictitious pirate ship of epic size, unmatched fortifications and a well-disciplined crew.  They carry a cargo of more value than gold – Loaded Cannon Spirits!  The distillery is named after the ship, and our theme true to the golden age of pirates!  Our large, all copper still, is named Anney and her smaller sister test still is Mary.  Named after the notorious female pirates Ann Bonney and Mary Read. Anney's skills and bold flair are highlighted in our Vodka – Anney's Blade.
The founder, president, Steve Milligan has never been able to sit still.  He always has to be doing something.  Steve, sort of "retired", in 2017, but his friends and family knew he would have to stay active.  Making stuff is a passion, and when that "stuff" is 80 proof…. well, it's just plain fun and exciting!  Steve has degrees in Chemical Engineering and International Management.  Since graduation in 1982 he has traveled the globe living in five countries, eight states and managed world-scale chemical facilities.  His career in the chemical industry started by, imagine this, becoming a distillation expert and preparing for the distillery he now runs.  Even prior to that, he was making beer in college for his friends.  Ironically, his senior lab project in college was distilling a water/alcohol solution.  Sadly, the professor would not allow them to drink the product!
Steve's true love for making "spirits' was born in Saudi Arabia, of all places.  There, the practice came with added anxiety, as being caught would result in significant punishment.   He was in Saudi working on a large project building a massive facility.  While there he lived in a Westerner compound where people had certain "needs", and Steve did his best to deliver.  The first copper still was a fine piece of work…. looking more like a plumber's leftovers than a fine distilling machine.  When attached to a five-gallon pressure cooker, it was an engineer's dream.  Tie in circulating water from a garden store water pump, add ice, and viola we are in business! 
The first products were made from grapes and mangoes eventually graduating to rice, corn, then molasses,  changing the recipe based on "customer" feedback.  In the beginning, there were some terrible experiences.  The first batch of mango brandy foamed so much it plugged the bubbler and blew mango all over the apartment walls taking days to clean up.  Then victory came.  The rice vodka and molasses rum were great hits and friends started suggesting this should be more than a hobby.  Before Steve left Saudi Arabia, he did what any good friend would do – mass production to build inventory for the ones staying longer.  The seed had been planted so after 35 years, when Steve retired from the chemical industry and a job he truly loved,  he was determined to open a distillery.  When Steve told his brother John about his plans, John replied, "that's a real loose cannon move for a conservative guy like you! How can I get in?!"  Ultimately, the lawyers got involved and "Loose Cannon" became 'Loaded Cannon".
Several things are clearly a priority for the partners – be a good neighbor, buy locally when possible, deliver quality second to none, set the safety standard for distilleries, and most important make people happy when they walk in – and leave impressed when they walk out!  If we can do that, we will succeed.
Loaded Cannon is proud to be a part of Bradenton and the Lakewood Ranch community and we are committed to having our neighbors play a large part in what we produce
WE ARE THE FIRST distillery in Manatee County AND THE FIRST multiple spirit distillery in the region. 
The theme of Loaded Cannon is chosen due to the rich pirate heritage of our area which includes the likes of Pascual Miguel-The Butcher, the beautiful Carlota, Ben Margoza, Jose Gaspar! Come learn about them all and find out which ones are real, and which are "exaggerated".